Meetings
Meetings are held the 3rd Thursday of each month, 7:00 PM at the Springhill Church, 4769 West Babcock, Bozeman, MT unless otherwise noted.
November 2014 Events:
The
November newsletter
is available for download from our web site.
The
October newsletter
from the BCH of Montana is also available for download.
The
November newsletter
from the National BCHA is also available for download.
Hay 101 for horse owners:
November 10, 7:00 pm
Room 138, Animal Biosciences Building
on the MSU campus. Dr. Emily Glunk, MSU Assistant Professor & Forage Extension Specialist, will discuss hay for horses and take your questions. Local hay test results will be discussed as well.
Board Meeting: November 20, 6:00 pm Springhill Church, West Babcock
General Meeting: November 20, 7:00 pm Springhill Church, West Babcock
Horse and Bike Safety Clinic: November 23, 8:00 am Circle L Arena, Belgrade PDF Flyer
Christmas Party: December 6, 4:00 pm Broken Hart Ranch
BCH State Meeting: December 6 Guesthouse Inn, Missoula
Look at what we have been up to this year in our 2014 Volunteer Hours Report.

Be sure to renew your membership for 2014!
We have most of our calendar activities set for the year but be sure to check back every now and again for additions or deletions. You can use the calendar link on the menu above to check for updates.
We are now a 501(c)3 oragnization and your donations are tax deductable. Help us keep the trails maintained and the public educated on horse safety and packing.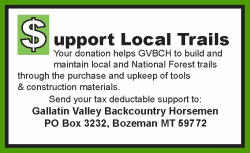 Purpose
The Gallatin Valley Back Country Horsemen Club (GVBCH) is a non-profit organization whose purpose is to perpetuate enjoyable, common sense use of horses in the back country, assist government agencies in maintenance and management of the resource, ensure that the Public Lands Resource remains open to recreational stock use, and educate, encourage and solicit active public participation in wise and sustaining use of horses and use by people commensurate with our heritage and the back country resources.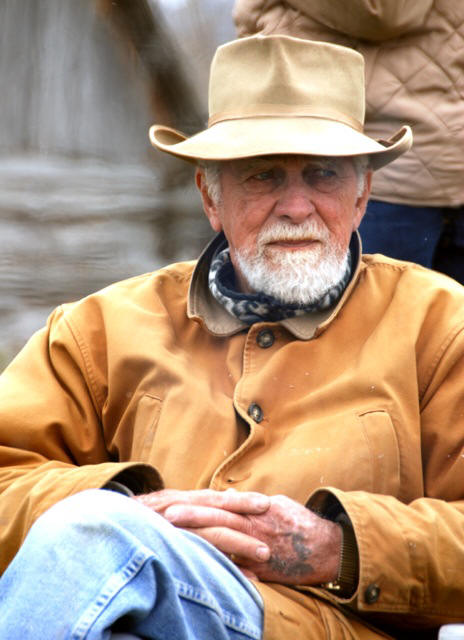 Charles Walton "Chick" Hale Obituary
A great Gallatin Valley Back Country Horseman and long time trail master passed away October 22, 2014. If you have any favorite pictures of Chick please send them to me and I will post them along with these
pictures
from Janice Cartwright.