Meetings
Meetings are held the 3rd Thursday of each month, 7:00 PM at the Springhill Church, 4769 West Babcock, Bozeman, MT unless otherwise noted.
September 2014 Events:
The

September newsletter

is available for download from our web site.

The latest Back Country Horsemen of Montana

Newsletter

is also available.

Wednesday Trail Crew: September 3, 10, 17, 24

Shafthouse Mine Pack Trip: September 3 or 4 contact Henry Glenn for more information

Board Meeting: September 4, 7:00 pm Springhill Church, West Babcock

BohartTrail Challenge: September 14. 10:00 am Bohart Ranch, info: 388-5688 or gallepmt@gmail.com

General Meeting: September 18, 7:00 pm Springhill Church, West Babcock

State Board Meeting: September 20, 10:00 - 4:00

Broken Arrow, Deer Lodge


Be sure to renew your membership for 2014! Note: There is a dues increase of $5 from the National Organization for 2014. Thank you for your continued support in keeping our trails open.

We have most of our calendar activities set for the year but be sure to check back every now and again for additions or deletions. You can use the calendar link on the menu above to check for updates.

We are now a 501(c)3 oragnization and your donations are tax deductable. Help us keep the trails maintained and the public educated on horse safety and packing.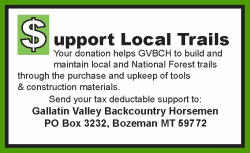 Purpose
The Gallatin Valley Back Country Horsemen Club (GVBCH) is a non-profit organization whose purpose is to perpetuate enjoyable, common sense use of horses in the back country, assist government agencies in maintenance and management of the resource, ensure that the Public Lands Resource remains open to recreational stock use, and educate, encourage and solicit active public participation in wise and sustaining use of horses and use by people commensurate with our heritage and the back country resources.