Meetings
Meetings are held the 3rd Thursday of each month, 7:00 PM in the Silver Spur Arena, 115 Dirt Road, Belgrade MT unless otherwise noted.
Please send in any volunteer hours you have done for the GVBCH for 2013 to gvbch@bchmt.org
Board Meeting:
cancelled
Christmas Party:
December 6, 5:00 pm Lee Hart's Broken Hart Ranch
State Board Meeting:
December 7, 10:00am Guest House Inn, Missoula
General Meeting:
December 19, 7:00 pm Belgrade Alliance Church Director & Officer Elections
Download Ballot
Board Meeting:
January 9, 7:00 pm Note new date! Silver Spur Arena, 115 Dirt Road, Belgrade
Be sure to renew your membership for 2014! Note: There may be a dues increase of $5 for 2014.
We are now a 501(c)3 oragnization and your donations are tax deductable. Help us keep the trails maintained and the public educated on horse safety and packing.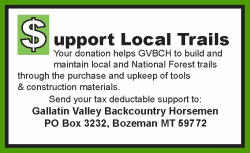 Purpose
The Gallatin Valley Back Country Horsemen Club (GVBCH) is a non-profit organization whose purpose is to perpetuate enjoyable, common sense use of horses in the back country, assist government agencies in maintenance and management of the resource, ensure that the Public Lands Resource remains open to recreational stock use, and educate, encourage and solicit active public participation in wise and sustaining use of horses and use by people commensurate with our heritage and the back country resources.